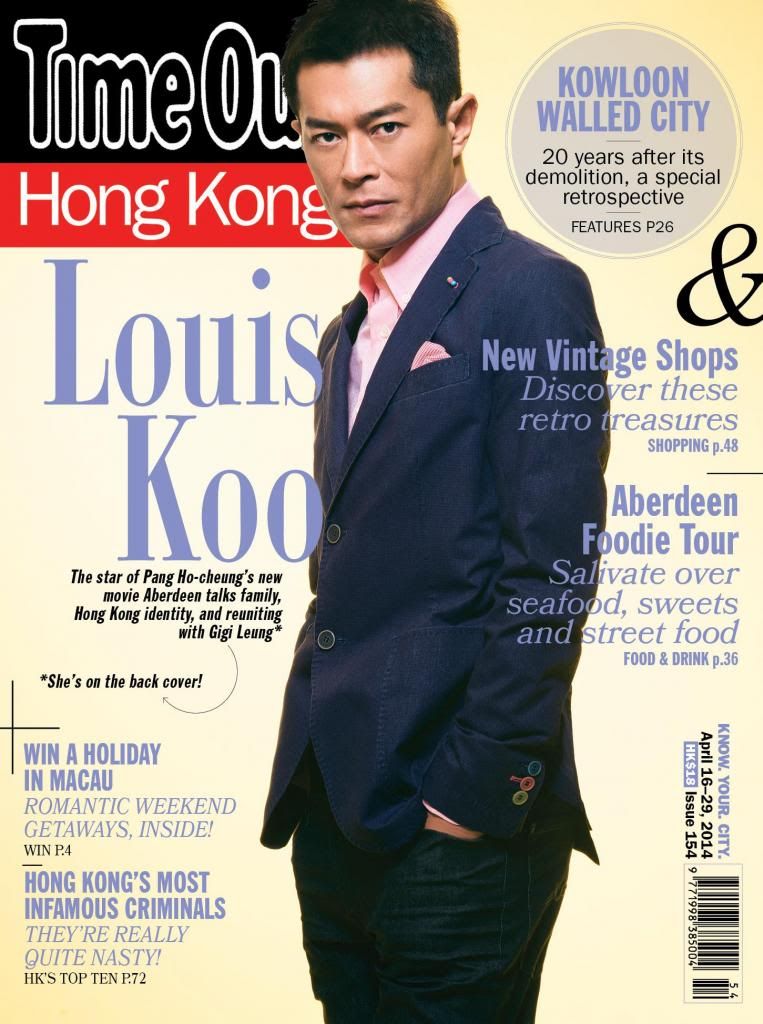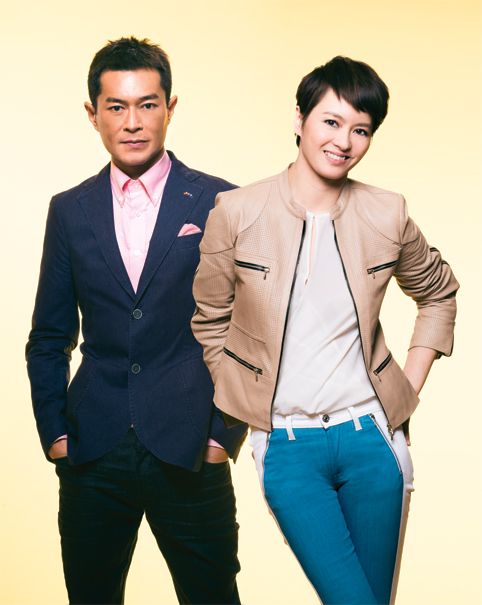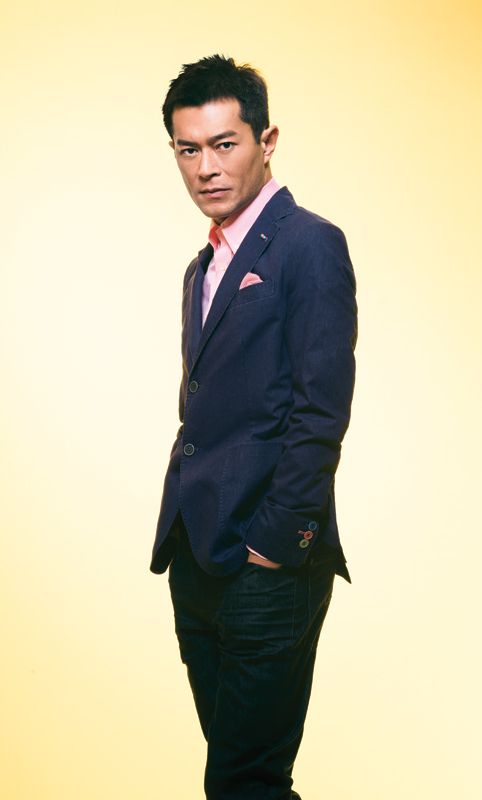 Interview: Louis Koo & Gigi Leung
After 10 years, tanned and stern superstar Louis Koo reunites with Hong Kong's bright, smiling darling, Gigi Leung, in Pang Ho-cheung's first serious drama, Aberdeen. Arthur Tam sits down with them both to talk family and a reunion which has been decade in the making. Photography by Calvin Sit. Art direction by Jeroen Brulez
Beneath the flashy high rises and financial prowess of Hong Kong lies the colourful subtleties and absurdities of Canto-centric life that director/producer Pang Ho-cheung has been able to poignantly and humorously dissect and turn into entertainment. From his 2010 cult classic Love in a Puff to last year's production of the sexually revved up hit SDU: Sex Duties Unit, Pang has been able to expose the terms and conditions that plague modern dating and, at the same time, been able to deliver sharp, gritty and visceral moments that portray how our city perceives fornication. Apparently once the loins are fired up, awkwardness and laughter ensue.
Not so funny, however, is Pang's upcoming film, Aberdeen, to be released next month. Here, he veers away from his signature dark comedy storytelling with his first attempt at a serious family drama, which looks at the issues that gnaw at the layers of the complicated modern Hong Kong family dynamic
There is an all-star ensemble making up the cast of the film, including the dark and handsome, ever so stern-faced Louis Koo, and the statuesque Ms Congeniality herself, Gigi Leung, who, for their first collaboration with Pang, are reuniting for the first time in 10 years, and play a dysfunctional husband and wife couple.
The career paths and personalities of the stars couldn't be more different. Koo started out his acting career at TVB as an unassuming, chiselled face. After finding significant popularity with his audience, Koo moved on to film, and has since starred in over 70 movies, averaging around four movies a year, making him one of the hardest working and most well-known names in not only Hong Kong but in the wider Chinese film world. The now 42-year-old is usually cast in tough, rugged roles, ranging from Triad leader and despondent alcoholic to undercover cop and emaciated drug addict. Roles of a tortured soul more or less. Yet on occasion, he has exposed his more sentimental side, such as when he played opposite Leung in 2004's Love on the Rocks, where the two played a dating couple whose relationship was on the verge of shambles – a not dissimilar dynamic to that of Aberdeen.
Leung, on the other hand, has long been the smiling golden girl of Hong Kong film. Her entertainment career began in modelling, with her angelic appearances in ad campaigns soon catching the attention of director Lee Chi-ngai, who offered her her acting debut in 1995's Doctor Mack, for which she received a nomination for Best Newcomer at the Hong Kong Film Awards. From there, she branched out into music, where she flourished as a singer-songwriter and found huge popularity not only in Hong Kong, but on the Mainland and in Taiwan, in addition to her regular screen presence, which has taken her filmography to almost 40 films. In 2011, Leung's popularity had her as the most followed Chinese celeb on Weibo and today, though she no longer holds the crown, has amassed an impressive 11.5 million followers. Though in recent years the now 38-year-old has begun to slow down in her career after settling into married life, she remains very much a household name.
Ahead of the general release of the film in May – Aberdeen was also the opening film at the recent HKIFF – Time Out sits down with Koo and Leung to talk about Pang Ho-cheung's new film, their ambitions and their long-awaited reunion, starting with the leading man himself
Hi Louis, thanks for chatting with us today. So, Aberdeen. What has it been like working with Pang Ho-cheung for the first time?
I have always thought that he is a talented director, and I have known him before. His previous films have been rather exaggerated, risky comedies, whereas, for Aberdeen, we are doing a movie that is more about a big family with each character having their own story. I think Hong Kong seldom has films that concern the family spirit, so this time I really like the direction of the film.
It's quite different from his other films…
Though this film is different from his previous ones, there is still his signature humour within the drama. For instance, there is this one part where Gigi realises that we've lost our daughter. I try looking for her and Gigi suggests that I wear a white Star Wars stormtrooper helmet during my search. I thought this scene was quite funny.
The film is about a family in Hong Kong. Was there a part of the film that left an impression on you, personally?
My impression… I think it would have to be that I have a daughter. I've always liked kids but it's the first time that I've worked with a little girl that has more of a boyish character. She's very tomboyish and, in the film, she's really into Wing Chun. I guess I don't usually miss a lot of children actors that I've worked with, but I think of her from time to time.
We know from last time that we spoke with Shawn Yue that Pang likes to give his actors a lot of freedom to interpret the scene and inject their own impromptu dialogue. Is that something that you had to do?
Absolutely. We definitely needed to do it in this movie because we were working with a child actress who's quite young, so we couldn't really follow the script directly. Oftentimes, we would be filming without her knowing it. You could say it was a fun and organic way of working together.
This film is getting a lot of hype as something that hits to the heart of Hong Kong identity. What do you think about that?
You could say that this film has a strong Hong Kong flavour, but it still incorporates ideas that are generally part of Chinese customs as a whole as well as general pop culture. For instance, Miriam Yeung's character's mother dies so, in reverence, she has to burn certain offerings that are part of Chinese traditions that are not just specific to Hong Kong. Then there are other parts where I suspect that my wife got plastic surgery, which are current concerns that affect today's society. We don't do anything cliché like having to go specifically to Mong Kok to get skewers of siu mai or fish balls – instead the film relates to the everyday lifestyles and issues that people are currently living and facing.
How did you prepare for your role?
Since I play a tutor I had to brush up on how teachers teach these days. These days teaching has become more entertaining. Educators try different techniques to stimulate students, so I had to do a lot of research and watch videos of how teachers teach to get the mannerisms right. Pang let me pick which subject to teach and I chose economics.
In Love on the Rocks, you and Gigi also play a couple. How does your relationship in Aberdeen differ from your last collaboration with her?
She's my wife, we have a kid and I work as a tutor. In Hong Kong you can earn a lot being a tutor. They drive sports cars and own expensive homes. My wife is a washed out celebrity. Anyway, I have a lot of suspicions concerning my relationship with her. I don't really trust her and I'm not sure if my daughter is really even mine. I think that our daughter doesn't resemble us, which is why I think my wife had plastic surgery. It's a very mistrusting relationship.
It's been over 10 years since you worked with Gigi. How has the work chemistry between you changed?
Now that she's married, I suppose her role in playing a wife seems more authentic. When we've worked together before, I suppose she still had more of a girlish quality, but now she has a stronger essence of family.
So she's more mature?
Well yes… but she's always been mature. I've known her for over 10 years now, so it's easy working with her and it doesn't really take any kind of preparation.
* * *
It's hardly a surprise that Koo highlights how easy it is to work with Gigi Leung. After all, the seasoned actress and all-round entertainment personality has become particularly known over the years for her congeniality. And as she sits down with us, she exudes an air of personability. Yes, that famous smile is ever-present, but so is a welcoming warmth and a chatty, open demeanour. And it's with this ever-convivial atmosphere that Leung starts chatting to us…
Hi Gigi, thanks for your time today. So, how was your experience working with Pang Ho-cheung?
It was pretty exciting. I've watched a lot of his films and liked them. I think he's a very thoughtful and energetic director who knows how to enjoy life and see it for what it is. I also really like him because he's a person lives with passion. As long as you have passion in something, you can succeed in it. It's really comfortable working with directors like him because they don't second guess themselves or hesitate. They are decisive. They know exactly what they want and it saves a lot of time when it comes to collaborating.
Louis mentioned there are strong Hong Kong specific themes to the film. Would you agree with him?
I do. Don't you think, like, whenever you read magazines, you see that most advertisements are about whitening or V-shaped faces? It's all about beauty, skincare and plastic surgery. In a way it does reflect the needs of Hong Kong people. Because people want it, that's why it exists. Hongkongers pay a lot of attention to beauty and vanity. The movie reflects that trend.
What do you think about having more films that are catering specifically to a Hong Kong audience?
I think it's great and makes us feel special having films that are unique to Hong Kong. In the last several years, I would say 90 percent of my films have been either co-produced or produced in the Mainland. So, the 10 percent of Hong Kong films that I get to be a part of are quite precious to me. So when I heard that Pang wanted to cast me in a movie set in Hong Kong, I was elated. Especially at that time, when I just got married, it meant I could spend more time with my husband in the city. If this film came out earlier, I think it would be less special.
Why is that? Why would it be more special now than before?
I think it shows that Pang has guts to stay away from the trend that a film must be made for the mass market. He just follows his heart and what he wants.
Do you think the film is an accurate reflection of the sentiments that Hongkongers are feeling?
I think it's very accurate at portraying the dynamics of a Hong Kong family. Chinese people, sometimes the way they show their love, it's very passive, which creates all kinds of misunderstanding that creates a snowball effect for even bigger problems, just because no-one is willing or trying to communicate.
I think people just want things to be too perfect. It is a setup for failure in any relationship, whether it's a relationship with yourself, significant other or parents and children. I think this problem is pretty serious in Hong
Kong families.
Tell us about your character in the movie...
I play a model/actress who slowly gets lost. She starts questioning her value in society – how much she's worth. This woman lacks confidence and because she wasn't born pretty, she gets plastic surgery. She needs to attach herself to something because she feels there is something lacking. She thinks that beauty is what can lead to her success. She places a monetary value on herself and has to know how much she's worth and seeks validation from other people. Isn't that sad? Because if you need someone or society to tell you how much you're worth, then you'll never be fulfilled.
This must have been quite the challenge, as compared to your previous roles…
Definitely. Before, I mostly acted in comedies, whereas now it's a serious drama. But I really love doing comedies, it makes one very happy because everyone is always smiling and laughing.
Tell us about the more sexual scenes that you had to dive into. Those must have been quite new for you…
The only kind of challenge that I get is from the depth of the role. You're right, though, I don't usually play roles that require me to wear bikinis. And then, of course, there are the big boobs, which are obviously fake [laughs]. But for this movie, I'm willing to take more risks.
As someone who did start out as a model, as well as being a spokesperson for beauty
and makeup brands, did you feel a relationship with this character then?
I do. She's an actress that has to face getting rejected. And in that moment she gets lost. And as an actress myself, I need to be prepared that one day, people are going to forget about me. It's just a matter of time.
You have such a positive attitude about it…
[Laughs] Well it's because it is bound to happen, so I just don't need to be bothered by it. People shouldn't focus too much on every incident in life.
Louis says that you've changed a bit after you got married, that playing the role of a wife seems very natural to you now. Do you think you've changed?
I think a lot of people think that, after someone gets married, it actually limits the types of roles that they would accept. In my case, though, I've found that married life has actually lifted a burden and has enabled me to focus on roles that I really want to play. In this film there are actually scenes in the bedroom on the bed, between husband and wife, behind closed doors, that we have to shoot. It's so normal to me, though, because that's what a husband and wife are supposed to do. So even though it's so passionate and intimate, as long as it makes sense, it's fine. My husband totally understands and respects my job and this film. Just because I'm married I don't feel any pressure to not take part in intimate scenes like this.
So married life has been good to you?
Yes, it's good for me because I need time to take care of my family. It's obvious that I've slowed down in my career, but it doesn't matter. Last year I only did one film and I felt great because I have more time to focus and do research.
I'm sure you get this a lot in interviews, but are you planning on having a child?
Eventually. We are happy to welcome a child into our lives. It would be a gift.
It's been a decade since you worked with Louis. What has the reunion been like?
There is a rejuvenated feeling I would say, because finally, we have a daughter. We've always played a couple, but never a married couple with a child. I don't think Louis changed that much, but it's refreshing to see him play a family man role. I don't know what you think, but my impression of his career is he always plays tough roles that have to do with G4, gangsters, detectives – very action oriented manly roles. It's good to see his gentler side… [Laughs]
* * *
And a gentler side of Koo is what you'll get in Aberdeen, as he assumes his paternal role, perhaps the beginning of Koo branching out from, as Leung says, the 'very action oriented manly roles' that have characterised much of his career. Indeed, it's a broadening of horizons that Koo hints at, as we talk to him about his future projects. "Whenever I get approached with jobs now," says Koo, "it doesn't matter if it's a leading role or just a side character. As long as I can find something special in the character that's good enough for me." For Koo it's not so much about seeking the next best thing as focusing on the present – although he has three other films to be released this year, as well as a cameo in Naked Ambition 2, where Koo plays a comedic role as a gigolo.
As for Leung, she hints at potentially returning to the music fold soon. "Maybe later in the year I'll come out with an album. I would like to compose even more now, seeing as I have the time."
With their careers on such different trajectories, fans will be hoping that it's not another 10 years before these two reunite.
Aberdeen opens on Thu May 8.